Patubas Volume 11 No.1 2016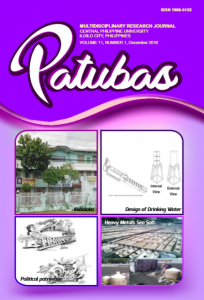 Patubas is published once a year under the auspices of Central Philippine University, Jaro, Iloilo City, Philippines.
Copyright © 2016 by individual authors and Patubas.
Published in 2016
Central Philippine University
Lopez Jaena, St., Jaro, Iloilo City
All rights reserved. No part of this publication may be reproduced or transmitted in any form or by any means, electronic or mechanical, including photocopy, recording or any information storage and retrieval system, without permission in writing from the authors or publisher.
For print ISSN 1908-515X
Publication ISSN 2672-3611
Opinions and facts contained in the articles published in this issue of Patubas are the sole responsibility of the individual authors and not of the Editorial Board, Patubas or Central Philippine University.